Zion National Park Artist In Residence
The Artist-in-Residence Program invites selected artists for a four-week period in the fall and spring. Artists must be self-sufficient, able to work independently in an isolated environment, and comply with all park regulations and policies. Art and Landscape Preservation Artists have long painted, photographed, and written about the scenic beauty and natural wonders of the American West.
Artist-in-Residence Program
During my time as an Artist in Residence with Zion, I spent the majority of my days exploring the canyon, observing the park's incredible biodiversity.
I had the opportunity to join staff on a hike to spot Bighorn Sheep and talked with them about Spotted Owls and Condors. Zion National Park Artist In Residence these experiences with educational materials provided by park staff and a bit of my own research, "Species on the Brink" highlights species that were once, or still are at risk within Zion National Park: Mexican Spotted Owlet, Peregrine Falcon, Condor hatchling, Southwestern Willow Flycatcher, Mojave Desert Tortoise, Monarch Butterflies.
With four million visitors and an eight-mile stretch of road, there is bound to be litter. When I arrived, many of the trails were closed due to recent slides, including Angels Landing, so the large number of visitors were limited even further. One of the greatest attractions of the park is the Narrows that takes visitors up through the Virgin River as the thousand-foot walls Zion Canyon tower on either side.
Because of the unique qualities of the hike, many shoes unfortunately, get left behind. By the end of my time in Zion, I found upwards of 30 shoes along the Riverside Walk leading to the Narrows, discarded after being filled with sand, drenched, or broken.
Painting on shoes has always offered a literal perspective on the idea of a human footprint. Last updated: July 29,
Search Website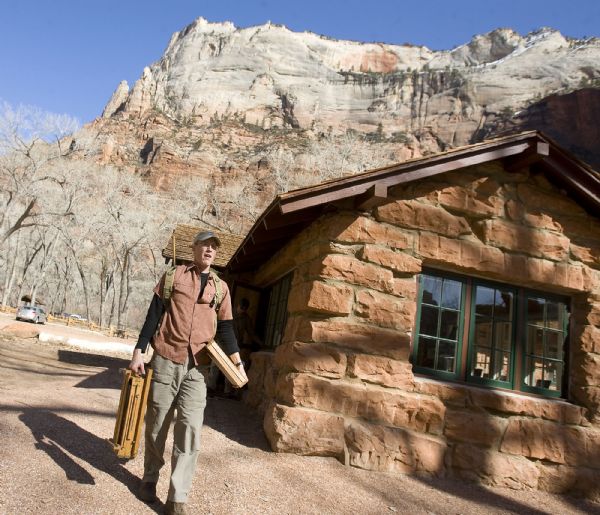 Inspired by the natural and cultural features that make these preserved landscapes unique, artists use traditional and modern artistic techniques to express their interpretation of the park. Selections will be made on the basis of merit and understanding of the mission of the National Park Service. The Artist-in-Residence Program invites selected artists for a four-week period in the fall and spring. One program will be presented for the Southern Utah University's Art Insights speaker series and the other will be presented at the Zion Lodge.